Production and Economics in Engineering
Graduates of the Bachelor's degree programme are professionally well prepared to tackle specified problems in practice. They will be able to address challenges of technological and metrological nature, tasks related to the choice of material and its processing, operation, quality management, energetics, standardization, economics, management, ecology, work safety. The structure of the programme allows students to gain the basics of theoretical disciplines (within the so-called Basic studies) which are a necessary starting point for continuing professional studies.
Tutors: Ing. BcA. Jan Podaný, Ph.D. a Ing. Petr Žemlička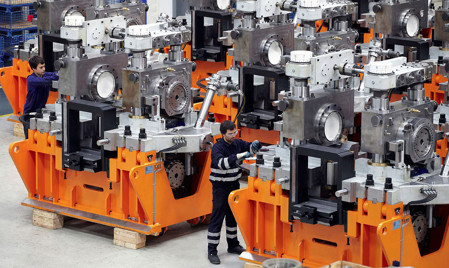 The aim of this programme is that the graduates are able to solve problems based on the experience and skills of specialists. Upon gaining experience, the graduates may find suitable jobs in management positions in preparation for the production, in operation, planning, trade, transport, services and so on. The programme has one field of study.
Acquired basic knowledge of technology of engineering manufacturing processes is deepened by studying technology expertise in casting, forming, heat treatment, and welding, surface treatment, material testing and machining technology, including NC programming. Professional profile of graduates is completed in the subjects focused on the choice of construction tools and equipment, preparation of CAPP production, production equipment and diagnostics, quality management. The programme further addresses production management, rationalization of production of semi-finished products, assembly technology and designing production systems. This knowledge will enable the graduates to address the issue of project and production-operational nature, not only in technical training but also in production process itself.
In the field of materials, students use gained fundamental theoretical and further practical knowledge of engineering as a whole with an emphasis on materials, engineering technology and management to gradually deepen expertise of technical materials and their properties, selection and testing of materials and their processing; they also learn about modern processing technologies, diagnostics and quality management, as well as production, project and business management. Students deepen their language skills and learn to defend and present their findings and results. They are thus well prepared to succeed in virtually all engineering and related fields, in preparation for production in operation, planning, management, trade, services and other areas. Graduates with this specialization are highly demanded on the job market.
In the field of management, students use gained further knowledge of economics, management and manufacturing process to gradually deepen expertise both in the management of production and pre-production stages, in rationalization of production, management and marketing, accounting and computation, organization of operation, tools, technologies for production of semi-finished products, heat treatment and machining and assembly technologies. This profile is supplemented by findings from the areas of designing manufacturing processes and systems, auxiliary and service production processes, business economics, quality management, data processing, database systems and means of mechanization and automation. Synthesis of expertise of economic and technological nature allows the graduates to address the economic, operational and management roles in production, both in large enterprises and small companies.