Briefly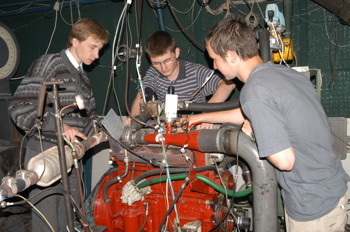 Studies at the Department of Automotive, Combustion Engine and Railway Engineering prepare you for the work of highly qualified expert for the development and construction of vehicles, combustion engines and mechatronic systems. You will be able to analyse and specify the design problem, propose creative concept solutions, perform detailed design and optimal sizing of equipment or machinery, to determine its durability and reliability.
You will find suitable jobs as research and development staff, leading designers and planners or leading test engineers in the field of road, terrain and rail vehicles in area of transport, construction and agricultural machinery, in the field of aircraft, structures and air traffic, and in reciprocating internal combustion engines, automotive, ship, aircraft and energy and aviation turbine engines.
You can choose to study in Czech language in the field of Transportation, Aerospace and Handling Technology or in English in the programme Master of Automotive Engineering.
In the context of construction projects and thesis you have the opportunity to cooperate on the topics with manufacturing companies to participate in projects of real vehicles and their components.