Equipment
Focus on rolling stock
The department has model tackle machine to investigate properties of new concepts of two-axle chassis fitted both with conventional axles (CLW), but also axles with freely rotating wheels (IRW).
Focus on vehicles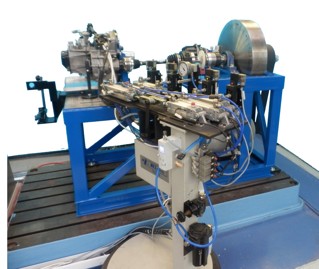 provides experimental teaching in laboratories in Juliska. Students can learn about the measurements on the dynamometer open stand where are tested properties of hydrodynamic drives or gearboxes with a coaxial position of the input and output shafts.
The inertia stand tests breaking performance of disc brakes and their linings.
There is also a small flywheel machines with pneumatic shifting robot for endurance tests, synchronizing clutch transmissions of cars, to measure losses by flicking or functional tests of innovative sorting mechanisms.
In 2015, the laboratory was equipped with new cylinder and functional power bench MAHA MSR 500 4x4, which measures vehicles with the greatest pulling force on the axle of up to 7000 N.
For research and development work is used the most modern equipment in the laboratory of the Centre of vehicles for sustainable mobility in VTP Roztoky.